Swiss Woman Travels to Vallejo for Rare Dog
By Lanz Christian
Times-Herald staff writer
POSTED: 03/02/2014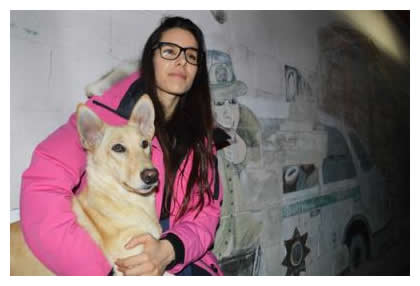 When some people want something, they'll go to great lengths to get it.

Just ask Cathy Jenny, 22, who flew in from her native Zurich, Switzerland, to pick up her new puppy from Vallejo dog breeder Susan Anthony.

"She's going to come with me (to Switzerland)," Jenny said of Snowy, a descendant of perhaps one of the oldest breed of dogs in the Americas -- the Carolina dogs.

Anthony calls her particularly variation the California-Carolina.

The Carolina dogs were discovered as a wild species in the Southeastern United States in the 1970s and have a dingo-like appearance.

"I heard that it's a really healthy dog, and it doesn't really have a lot of genetic problems. And they're pretty intelligent, and that's kind of what interested me in getting the dogs," Jenny said, shortly after she arrived in Vallejo on Saturday night.

Jenny did some research in where to adopt a Carolina dog and, because of the rarity of breeders, found just a few choices in South Carolina and Anthony here in Vallejo.
"She has experience with sending her dogs to Europe, so that's reassuring," Jenny said of her choice of Anthony. Jenny also wanted an older puppy who had already received training from Anthony. Snowy is about 44 pounds and not quite fully grown. Anthony said she expects her to reach the full adult weight of about 53 pounds. Jenny is a junior at George Washington University in Washington, D.C., and is studying anthropology and art history. She is currently at an internship in Zurich. This is Jenny's first trip to the Bay Area, though not to California, and she also hopes to see what she can before flying out tonight.
Snowy will not be sedated for the 12-hour flight back -- at least not with drugs.
"We're going to run her for about two hours," Anthony said, adding that the practice usually comfortably exhausts the dogs and let them sleep through much of the flight.
When Jenny is finished with her internship, Snowy will return with her to the United States to finish out her schooling.
"She's my dog, so I'm going to take her where I live," she said.
---
HOME