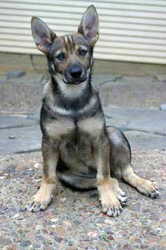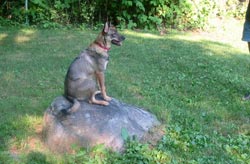 Hi Susan,

Just a quick note.....we got her! She is really cool looking......real wild looking.. She made it through the plane flight. We were a bit concerned because we had to wait so long for them to bring her to us but once we got her out we realized she was in good shape. She was a bit "wilted" as you would say. She sat in my arms all the way home. At first she was trembling but within a short while she was relaxed and slept on the way home. She really perked up when she saw Foxxie. We took them outside and she can run like the wind. Foxxie didnt really know what to make of it. I think they will be good friends and maybe Foxxie will lose some of those extra pounds she cant seem to drop. I am sure "Opra" will see to that. Ah gosh, she is just so cool. We are so lucky!

Thanks Sue

Lauren
---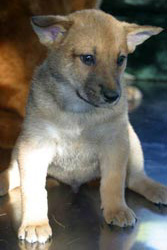 Susan, Happy New Year! Bonnie is doing great! She was getting a little wiley so we started obedience training with her last week. She is catching on quickly, so much so that the trainer said she'd never seen such a smart dog. She was extremely impressed with Bonnie's temperment and her intelligence. I guess we should have started training a little earlier, but she's so smart and willing to please that it shouldn't be a problem. Her and Clyde get along great. Clyde gets a little annoyed sometimes, but luckily our property is big enough that he can get away and get some quiet time as needed. We are still having some potty training issues, so any advice would be appreciated. She is getting pretty big, probably close to 30 lbs. with long legs. She definetly outgrew her runt status. She is VERY energetic. I'm glad Clyde is so patient. Any other training tips would be much appreciated. I'll send some pictures when I get my film developed. Take care.
-Kris

Hi Susan! Bonnie is doing very well. She's about 50 lbs now and very lean and muscular. She can be a bit mischievous at times, but is very sweet and affectionate. She and Clyde get along great!
-Kris Sundeen
---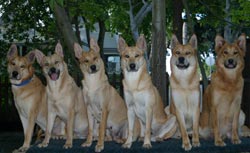 Dear Susan,
WOW!
Now, do you have an older female...I'm not set on a puppy, unless you recommend so. If "my" dog, the one i was getting from you last is still available I'd be interested in taking her.
In your big group photo, the dog on the farthest outside left is an identical twin to my beloved first Carolina Dog.
But I'm easy--I'll fall in love with any of your dogs.
Thanks.
Love joan
Okay, I have a female for you.

Will you be able to come up and check her out?

This is Silk's baby picture.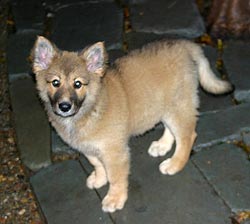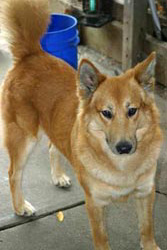 This is Silky now. Professionally handled and guaranteed to have a good temperament. She is sweet and a great family dog.

As I tell everyone these dogs can not be just a back yard dog. They need to be part of your family life.
Dear Susan,
I can't begin to tell you the enormous gratitude I feel for your generosity.
Silky is a full fledged member of our family and my favorite companion. My three and a half year old son stayed home from preschool yesterday to be with his new dog! (I want to stay home too.)
There are plenty of similarities to my last dog but more importantly Silky is her own perfect soul. And I love her fiercely. Thank you.
Thank you so much. You did know the right one for me.
Photos to follow soon.
Silky sleeps by my bed. I can reach down and touch her. )
Love joan
Dear Susan,
Silky is the greatest most adored dog on our planet! I cannot begin to thank you.
Two days ago she burst through the twins' safety latched bedroom door after they had been put down for the night. Silks has never ever opened any closed door at our house or bothered any kids after bedtime, but this time was different. I went in after her to shush her out without waking the babies only to discover that our nanny had accidentally left on a heater not a fan and the room was like a sauna already! (I'm sure you are not too surprised by her heroism.)
I think Silky is very happy in our den. She knows her place. Is constantly working to keep all the pups in view. She has special time with me in the afternoon and evening, to which she is better timed than a swiss watch--should I be late, she'll ask and nudge me.
As it works out, she gets a long walk everyday with her pal the cocker spaniel. We run half the way. For a long while it was my 11 year old's goal to run fast enough that Silks would break her fast trot into a canter. Finally we found a spot that lets her open up her beautiful long pace.
She sleeps by me and is with me every minute I'm home. (Unless the twins are being fed, in which case each dog sits at the foot of each highchair waiting for the inevitable treats the twins hand them!)
One of our cats--the same one that was in love with my old Carolina Dog, is in love with Silky. The times those two are together are the times you can really see the cat-like behavior of the Carolina Dog.
I do have some photos. I'll try to send you them later today. Our professional photographer is coming on the 31st to shoot me and Silky together, and the whole family.
Thanks for knowing that I needed Silky and for so generously giving her to us. She's just the greatest! I miss her now, when I'm at work.
Love Joan
PS Please let me know when she's due for shots et al. She wouldn't go with the groomer, but I wasn't home. So we'll try again when I can accompany her. I've been brushing her every other day and I used those waterless wash wipes on her, but she needs a proper bath.
---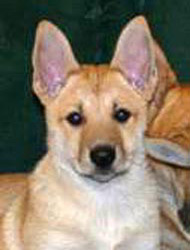 Cider has become a very popular girl in Colorado. Everywhere we take her people comment on how cute she is and want to know what kind of dog she is. I took to the vet last week for her second shot and they had to list her as a dingo because Carolina Dog was not in the breed registry. We think she is very special and are lucky to have her. I can't get over mature and smart she is. People are often very suprised that she is only 10 weeks old. Well, here a few pics and hope to talk soon.

April and Cider

It has been really hot her lately so she likes to sit in her swimming pool in the afternoons. She gets along great with other dogs and has little to no prey drive. Last week we went to a friends farm and she was introduced to pigs, chickens, horses, cows, pigs, and goats. She doesn't show any desire to chase small animals and enjoys playing with other dogs. Her new buddy is my sister's rott/pit bull mix. She follows her around everywhere when she comes to visit. Cider just finished her puppy training class this week and we start obedience next week. She continues to be very food motivated, which makes training easier. She's pretty much potty trained and her favorite training treat is hot dog pieces.

I'm pleasantly suprised that she continues to rarely bark. Even when around other barking dogs she will not make a peep.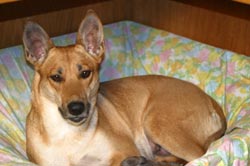 Delta, Cider's Mother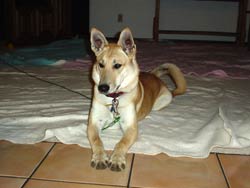 Hi Susan,
Long time no talk. Sorry I haven't got back sooner, but I've been very busy with work and trying to finish my thesis for school. Cider is doing great. She is now five months old and weighs 36lbs. She still has a very sweet personality, loves car rides, is very outgoing and confident, and loves to play with other dogs. He has a wading pool in the back yard that she likes to jump in when its hot outside. This was a good idea because it keeps her from jumping in the pond with the fish. She leaves them alone now. She still does not bark often and is starting to get more protective of your yard with strangers and strange dogs. The cats are starting to warm up to her. I think it is because she is now starting to lose some of her puppy hyperness. When she relaxes they like to approach her.
She continues to learn very quickly. We haven't had a potty accident in the house in over a month and she is very proficient in her obedience commands. She knows sit, stay, wait, come, down, stand, heal, up, leave it, drop it, and find it. She is no longer in the biting phase, but we continue to work on the jumping (it is slowly improving). I think this will diminish as she matures and all gets taller. I want to enroll her in agility classes to see if this will also help with the jumping.
Overall, she's a very pleasant dog. She doesn't have to many bad habits. She's not big on digging or chewing. She still has to been supervised when in the house, but this too should go away as she grows up. She really likes to sit on the upper level deck so she can watch over the yard. I always get complements on how beautiful she looks.
*She is no longer in the biting phase*
* Every Carolina puppy goes through the biting phase to some degree. This mouthy stage is a phase that will have to pass naturally. It starts when the pup is about 7 weeks old and lasts about four months. Pups tend to use there mouths like hands. During the mouthy stage never pet your puppy until the Pup has a stuffed animal in its mouth. "Get Your Chewy" are the key word you are to use. It is best to stay passive and accept that the pup has absolutely no control over this innate behavior. This passing phase must be accepted as a matter of fact. Do not play along or antagonize to engage the pup in this behavior. Gentleness as an adult is the reflection of love and patience. Do NOT make the pup feel there is something wrong or bad with him. The solution is remarkably SIMPLE. In a word it is called TRANSFERENCE. You simply transfer the dogs need to chew onto a toy. They particularly are fond of small stuffed dogs with floppy ears. Something they can gnaw or chew on works best. Everyone in the family pack needs to be consistent to instruct the puppy to "get your chewy" BEFORE providing any affection to the puppy. Do not make this period of childhood wonderment a time your Pup is subject to punishment or any type of treatment other than loving arms.

Training tip Courtesy of Susan B. Anthony
Hi Susan,

Cider is doing great. She finished her heat cycle over a week ago is back to her old self. She is making good progress in her scent tracking class. The trainers are very impressed with how quickly she learns. They have never seen a Carolina before and told me to tell you what a wonderful job you have done with the overall temperment and character of the breed. I would say that this is a big complement since they raise and train German Shepards for use in tracking, detection, and police work for the Colo Springs police dept and the local Ft. Carson Army Mountain base.

Anyway, sorry it took so long to get you these pics. She is now eight months old and weighs 50 lbs.

April
< HOME
< BACK
NEXT >
PAGE 1 2 3 4 5